Welcome to our site! Please browse the many Galleries for a look at our beautiful "Visions". Many can be made as is or redesigned as a custom window for your home or business. Or go to "Products Catalog" page for work that is immediately available for purchase. Come back often to see what's new!
Please take a look at the Patterns/Designs page where you can browse many designs that can be fabricated just for you:
We have created this web site for your enjoyment, whether you are interested in purchasing beautiful stained glass artwork, or just browsing. We have a large variety of different kinds of stained glass work available. There are suncatchers, freehanging window panels, and mosaic stepping stones to name a few. We also will do custom work to your specifications such as sidelights, transoms, window panels, and cabinet doors. Please contact us for more information about anything you see on these pages. Thank you and enjoy!
Please use the navigation bar at the top or the links at the bottom of each page to go on to the next page.

What you will find in "Visions":

"ABOUT US": Tells you our business philosophy, has a general pricing guideline, and a note from Sue with a picture of the workshop, and short bio.
"PRODUCTS CATALOG PAGE": Shows work that is immediatly available for purchase, with pricing.
"PATTERNS/DESIGNS": Offers links to a large collection of beautiful designs that can be constructed for you or can be used just for ideas.
"GALLERIES": Feature lots of glass art for your enjoyment. You can "contact us" if you are interested in having a similar piece made.
"GLASS IN OUR NEW HOUSE": Shows you our own home and how stained glass is used to enhance the homes character.
"PRODUCT DESCRIPTION PAGE" Will show examples of our work with details about the different kinds of construction, and where or how you might want to use that type piece.
"NEWS AND EVENTS": Tells you where you can see our work in upcoming shows.
"CONTACT US": Provides a link to our email address as well as our shop address and phone number.
Exerpt from a letter re. a cabinet door project:
"Your choice of focal point was nothing short of brilliant. The ivy border goes perfectly with the adjacent wallpaer. And the panels (textures) and colors you chose to help obscure the contents of the cabinet are perfect. Thank you! Thank you! Thank you! Sincerely, Dot O'Brien"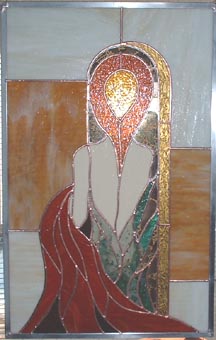 Woman II
Link to available pieces: Products Catalog
Customer Accolades:
Sue's work is beautiful! I buy a new stepping stone for my mother-in-law for every occasion (birthday, Mother's Day, Christmas) and she is always thrilled with the design and excited to add it to her garden.
BC Beach, New Bern, NC

Sue has done many custom pieces for our home, and we want more! Her work is a combination of exactly what we want with her own special "Vision". Jon & Joy Callahan, Garner, NC