Product Description Page
Stained Glass by Sue Callahan
This page has samples of each type of work, with descriptions of it's construction and use.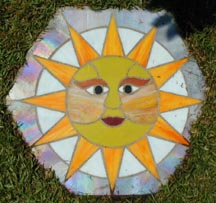 Garden stones (often called mosaic stones) are actually made with cut pieces of glass set in a mold, then covered with concrete, left to set up, and then turned out of the mold. If we are very skillful and a bit lucky, we have a beautiful garden stone, to use in a walkway, patio, as a table top, or just set in a garden area as an accent. We have hexagons, squares, or rounds. Prices range from $50-60 for simple designs and for designs with small mosaic pieces (state flowers, mosaic daisy or tulip), $60-70 for the designs with a central element and a border (fairies), and up to $80-90 for the full glass designs like this sun stone. Add $15 for use as a table top for special concrete called "diamondcrete" that makes a more smooth and finished looking product. Wrought iron table stands can be purchased separately.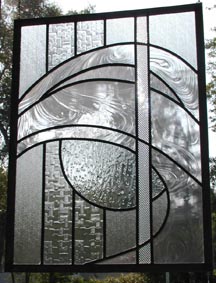 This is an example of leaded stained glass done in all clear textures. This method is commonly used for geometric designs in doors and sidelights or where a stong lead line is disired. Our panels are usually framed in zinc came for added strength. This abstract "Clear Wave" is 19" by 25", and could be built with other textures or colors. It sells for approx. $275.