Our Business Philosophy /Price Guidelines
Our business is dedicated to the production of high quality, affordable glass art work. Many factors are involved in pricing a piece: time, materials, design research and development. In general, panels (windows) are priced at an average of $100/square foot (see Note). Garden stones run approx. $50 to $100. Benches around $140 and up. Suncatchers can be as little as $15 on up to $100 or more. Clocks and pieces involving wood parts or iron stands will be priced according to availability of parts and difficulty of the piece. Local customers are invited to visit our workshop to consult with Sue, or we would be happy to go out on local calls for assessment and planning of the project.
Note: For a more accurate estimate of custom panel cost: Figure $65/square foot plus $3 per piece in the design. Additional fees may be incurred for extras such as bevels, exotic glass, working large, reinforcement, working small, intricate cuts, special frames, window shape other then rectangle, installation, design time, packaging and shipping.
Big discounts have been applied to pre-exisisting peices available on our Products Catalog page.
From the artist:
I love stained glass! I try to incorporate my "Vision" into every piece but each one has its own character as well. Glass responds differently to different settings and light conditions and so a finished piece often has a surprise included.
This all started in 1993 when a friend convinced me I had to take a community college stained glass class with her. Am I glad she did! I soon outgrew the single table in the unfinished attic work space, so my wonderful handyman husband built me a beautiful workshop. Although I do most of the work myself, I couldn't do it without the assistance of my husband, Ray, who handles all the heavy lifting. He installs, pours concrete, and gives me lots of expert advice. I hope you enjoy viewing our work on these pages!
-Sue Callahan


The old Workshop (we now have a bigger, better one):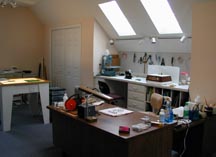 Sue with her original design aquarium window, custom built for a home in Greenville, NC. You can see this panel more clearly if you go to Gallery 2:

Sue with her original design Aquarium window.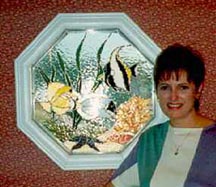 You can see this panel more clearly in Gallery 2